Paver block zigzag design: Create a unique look for your outdoor space
JR Rubber Industries is a leading moulds manufacturer of paver block zigzag designs. We offer a wide range of designs and patterns, including square paver block designs, 3D paver block design, I series, T series, Natural stone designs, and dumbel shapes. These paver block moulds are made from high-quality materials such as rubber, pvc and plastic. They are designed to withstand the elements and provide long-lasting beauty.
Basically, Paver blocks are a popular and versatile material used for outdoor surfaces. They are known for their durability and easy maintenance and can be used in a variety of applications, from walkways to driveways to patios. Paver blocks come in a variety of shapes and designs, and one of the most popular designs is the zigzag paver block design.
Zig zag paver block design is a unique pattern that adds visual interest to any outdoor space. The design features interlocking blocks that create a zigzag or chevron pattern. This pattern can be used to create a variety of looks, from modern and contemporary to rustic and natural.
There are many different zigzag paver patterns to choose from, depending on your personal style, the look you want to achieve and the zigzag paver block dimensions. Some of the most popular zigzag pavers include the herringbone pattern, the basket weave pattern, and the diagonal herringbone pattern.
Paver block moulds in zigzag design can be made from various materials, including PVC, plastic, and rubber. Zigzag PVC moulds are lightweight and durable, making them easy to handle and long-lasting. They are also resistant to chemicals and weathering, making them a good choice for outdoor use. PVC moulds are typically less expensive than other options, making them a popular choice for DIY projects.
Plastic paver block moulds are similar to PVC moulds in terms of durability and weather resistance. However, they are not as flexible as PVC and may crack or break under pressure. Plastic moulds are a good choice for occasional use or small projects.

Rubber paver block moulds are flexible and can withstand pressure and impact, making them a good choice for high-volume use. They are also resistant to weathering and chemicals, making them suitable for outdoor use. However, rubber-moulded paver blocks with zigzag designs are typically more expensive than other options.

Various Models Of Zigzag Paver Pattern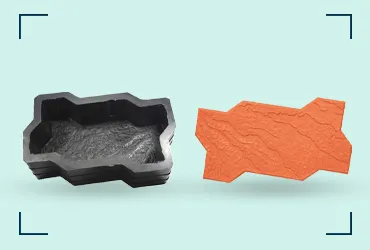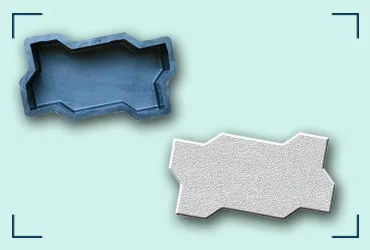 PM 159 Zigzag Small Check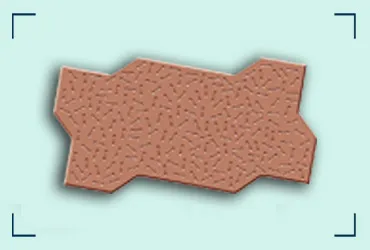 Frequently Asked Questions
Q. What is a paver block zigzag design?
A paver block zigzag design is a pattern created by laying interlocking concrete or stone paver blocks in a zigzag or herringbone pattern. The blocks are placed at a 45-degree angle to each other to create a "V" shape.
Q. What are the benefits of zigzag paver block?
The zigzag design provides greater stability and durability to the pavement as compared to other designs. It also enhances the aesthetic appeal of the pavement and can add value to your property. These are the benefits of zigzag paver block.
Q. How long does it take to install zigzag pavers?
The installation time depends on the size of the area to be paved and the complexity of the design. However, it generally takes longer to install a zigzag design compared to a simple straight design due to the added complexity of the pattern.
Q. How do I maintain zigzag paver patterns?
Regular maintenance is required to keep the zigzag design in good condition. This includes sweeping and removing debris, cleaning with a pressure washer, and applying a sealant every few years to protect the blocks from damage and weathering.